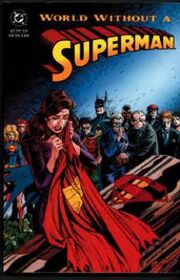 MARVEL VS DC COMICS IN THE MEDIA
Rob Schneider(Jimmy Olson) Melanie Hutsell (Hawk Woman), Al Franken (Lex Luthor), David Spade (Aquaman),
Adam Sandler (The Flash), Tim Meadows (Green Lantern),
Julia Sweeney (Lois Lane),  Dana Carvey (Batman),
Chris Rock (Robin), Sinbad (Black Lighting),
Tom Davis (Mister Fantastic), Chris Farley (Incredible Hulk),
Phil Hartman (Perry White)
Section heading
Edit
The Super-Heroes are having a funeral for Superman after his final battle with Doomsday.  Black Lighting shows up uninvited and helps himself with the shrimp that Aquaman brought.
Link to the show:
Edit
http://screen.yahoo.com/chris-farley-snl-skits/supermans-funeral-000000928.html
Ad blocker interference detected!
Wikia is a free-to-use site that makes money from advertising. We have a modified experience for viewers using ad blockers

Wikia is not accessible if you've made further modifications. Remove the custom ad blocker rule(s) and the page will load as expected.