DC COMICS: Superman Family (It's a Bird, It's a Plane, It's Superman tv special)
Comments

0
Share
Ad blocker interference detected!
Wikia is a free-to-use site that makes money from advertising. We have a modified experience for viewers using ad blockers

Wikia is not accessible if you've made further modifications. Remove the custom ad blocker rule(s) and the page will load as expected.
DC COMICS IN THE MEDIA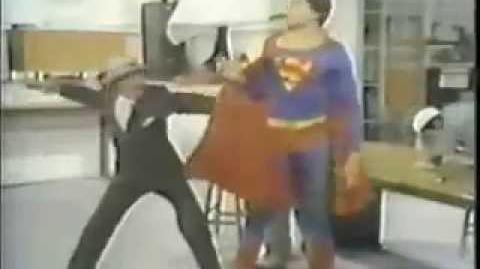 "It's a Bird...It's a Plane...It's Superman" was made into a TV special on February 1, 1975. The show was significantly shortened, the script significantly changed, and the ethnicity of a troupe of evildoers was changed from Chinese acrobats to Mafia-style gangsters. The sound of the musical numbers was updated to a more contemporary 1970's sensibility. The show was broadcast on the ABC network under its Wide World of Entertainment late-night umbrella title to poor critical reception. It starred David Wilson as Superman/Clark Kent, Lesley Ann Warren as Lois Lane, Loretta Swit as Sydney Carlton, David Wayne as Dr. Abner Sedgwick, Allen Ludden as Perry White, and Kenneth Mars as Max Mencken. Viewers of this re-make felt that the TV production lacked the energy of the original Broadway show.
WHO'S WHO:
Edit
| CHARACTERS | ACTORS |
| --- | --- |
| CLARK KENT - SUPERMAN | David Wilson |
| JONATHAN KENT | George Chandler |
| MARTHA KENT | irene Tedrow |
| LOIS LANE | Lesley Ann Warren |
| PERRY WHITE | Allen Ludden |
| DR. ABNER SEDGWICK | David Wayne |
| MAX MENCKEN | Kenneth Mars |
| JERRY | Stuart Getz |
| NEWSROOM COPY BOY | Danny Goldman |
| RAY CLIVE | Geoffrey Horne |
| MIT TECHNICIAN | Phil Leeds |
| GANGSTER 1 | Harvey Lembeck |
| JOE | Michael Lemback |
| GANGSTER 2 | Al Molinaro |
| NARRATOR | Gary Ownes |
| SYDNEY | Loretta Swit |
| BOSS | Malachi Throne |
| GANGSTER 3 | Lou Willis |
| ? | |