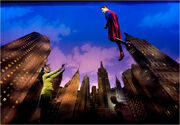 WHAT WE KNOW:
Edit
From June 18 to July 25, 2010, the Dallas Theater Center presented a revised version of It's a Bird..., starring Matt Cavenaugh in the dual role of Superman/Clark Kent, Zakiya Young as Lois Lane, Patrick Cassidy as Max Mencken, and Cavenaugh's real life wife Jenny Powers as Sydney Sharp (Mr. Cassidy developed laryngitis during the run of the show, and choreographer Joel Ferrell took over the role until Mr. Cassidy recovered). The new book for the show was written by playwright and comic book writer Roberto Aguirre-Sacasa. Kevin Moriarty, the Dallas Theater's artistic director, believed that the show's campy, pop art-inflected book had "not dated well," and approached Charles Strouse in 2008 for permission to revise the musical. Strouse acquiesced, and Moriarty hired Aguirre-Sacasa, a "lifelong fan" of the musical. Aguirre-Sacasa moved the musical's setting to 1939, and made the show's primary focus the "love triangle" between Clark Kent, Lois Lane, and Superman. Songs were cut, new songs commissioned, the order of songs changed, In November 2009, Moriarty and Aguirre-Sacasa held a private reading of the revised book with the show's surviving creators, Strouse, Adams, and Benton.
A staged production took place as part of New York City Center's Encores! series from March 20-24, 2013. Cast included Edward Watts as Superman and Will Swenson as Max Mencken, with Jenny Powers playing Lois Lane. Ms. Powers had played Sydney Sharp in the 2010 Dallas revival.  On March 23, Bob Holiday, who originated the role of Superman on Broadway, attended the show and met with the cast.
YOUTUBE FOOTAGE
Edit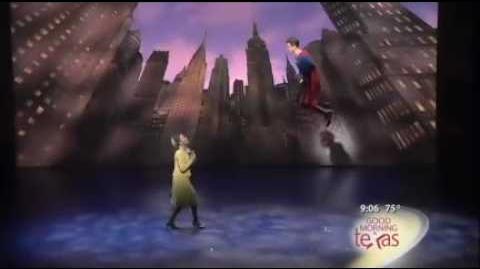 Ad blocker interference detected!
Wikia is a free-to-use site that makes money from advertising. We have a modified experience for viewers using ad blockers

Wikia is not accessible if you've made further modifications. Remove the custom ad blocker rule(s) and the page will load as expected.