http://i424.photobucket.com/albums/pp327/monitor_ep/comic%20books%20in%20the%20media%20photos/SUPERMANFAMILY_zps278df470.jpg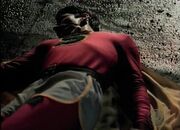 CSI: NEW YORK s2 e42 "Super Men"
Edit
A man dressed in a superhero costume is found dead in an alley, after saving a man being mugged. Mac, Stella, and Dr. Hawkes find his clothes in a nearby phone booth. Danny and Lindsay investigate the murder of an NFL first-round draft pick, known as "Superman."
SCREEN CAPTURES
Edit
Ad blocker interference detected!
Wikia is a free-to-use site that makes money from advertising. We have a modified experience for viewers using ad blockers

Wikia is not accessible if you've made further modifications. Remove the custom ad blocker rule(s) and the page will load as expected.