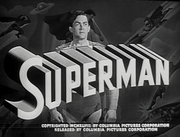 http://i424.photobucket.com/albums/pp327/monitor_ep/comic%20books%20in%20the%20media%20photos/SUPERMANFAMILY_zps278df470.jpg
Superman is a 15-part black-and-white Columbia film serial based on Superman. It stars an uncredited Kirk Alyn (billed only by his character name, Superman; but credited on the promotional posters) and Noel Neill as Lois Lane. It is notable as the first live-action appearance of Superman on film. It was originally screened at movie matinées and after the first three scene-setting chapters, every episode ends in a cliffhanger. The Superman-in-flight scenes are animations, in part due to the small production budget. It was followed in 1950 with Atom Man vs. Superman.
1948 SUPERMAN SERIAL
Edit

Superman is sent to Earth by his parents just as the planet
Krypton
blows up and is later
raised as Clark Kent by a farm couple. After his foster parents die, the Man of Steel heads to
Metropolis
under the bespectacled guise of Kent and joins the staff of
the Daily Planet
in order to be close to the news. Whenever emergencies happen, he responds in his true identity as Superman. This first serial revolves around the nefarious plot of a villain who calls herself the Spider Lady.
1950 ATOMIC MAN VS SUPERMAN
Edit
Lex Luthor, the Atom Man, invents a number of deadly devices to plague the city, including a disintegrating machine which can reduce people to their basic atoms and reassemble them in another place. But Superman manages to thwart each scheme. Since Kryptonite can rob Superman of his powers, Luthor decides to create a synthetic Kryptonite and putters about obtaining the necessary ingredients: plutonium, radium and the undefined 'etc.' Luthor places the Kryptonite at the launching of a ship, with Superman in attendance. He is exposed to the Kryptonite and passes out. Superman is taken off in an ambulance driven by Luthor's henchmen, and he is now under the control of Luthor. Superman is placed in a device, a lever is pulled, and the Man of Steel vanishes into "The Empty Doom" (which bears a similarity to the Phantom Zone of the comic books). Most of chapter 7 is a repeat of the origin story from chapter 1 of Columbia's first "Superman" serial, and this serial also finds a way to work in stock footage from Ken Maynard's 1936 Avenging Waters (also directed by Spencer Gordon Bennet [1]). The serial features several elements re-used in later Superman features: the Man of Steel is exposed to synthetic Kryptonite during a public function, as he is the motion picture Superman III. When he escapes from "The Empty Doom", the headline of the Daily Planet proclaims: Superman Returns.
Ad blocker interference detected!
Wikia is a free-to-use site that makes money from advertising. We have a modified experience for viewers using ad blockers

Wikia is not accessible if you've made further modifications. Remove the custom ad blocker rule(s) and the page will load as expected.