SUPER FRIENDS IN THE MEDIA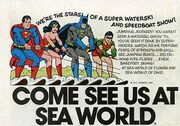 After the 1960's Batman and before the Legends of the Superheroes in 1979
Sea World put on a ski show staring the live action Super Friends.  During this show it was like watching the 60's Batman show with the "POW, BIFF, BANG" during the fight scenes, ski stunt shows with the Bat-Boat, and Batman's main bad guys in the mix. 
CAST OF CHARACTERS:
Edit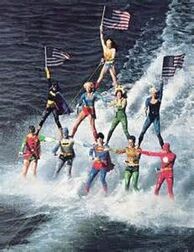 JLA:
BATMAN, ROBIN, BATGIRL, SUPERMAN, SUPERGIRL, AQUAMAN, MERA, GREEN ARROW, BLACK CANARY, GREEN LANTERN, FLASH, TARZAN, WONDER WOMAN
LEGION OF DOOM:
JOKER, RIDDLER, CATWOMAN, PENGUIN, CAPTAIN COLD
.
.
.
W