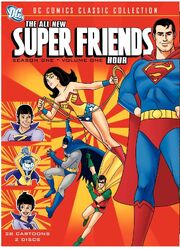 http://i424.photobucket.com/albums/pp327/monitor_ep/comic%20books%20in%20the%20media%20photos/superfriendslogo2_zps5cc0d3ca.png
The DC Comic book legends Superman, Batman, Robin, Wonder Woman and Aquaman return to fight for justice and protect the good people of planet Earth. Besides fighting evil, our super heroes rescue citizens who find themselves in harm's way, providing some lessons for all of us. This incarnation of the Super Friends also includes the shape shifting Wonder Twins, Zan and Jayna, and their space monkey, Gleek. The Super Friends feature guest stars Black Vulcan, Apache Chief, Hawkman and Hawkgirl and new villains such as the Hydronoids and Dr. Cranum. 
Edit
THE ALL NEW SUPER FRIENDS HOUR 
Edit
SEASON 1
The Brain Machine
Joy Ride
Invasion of the Earthors
The Whirlpool
The Secret Four
Tiger on the Loose
The Mysterious Time Creatures
The Antidote
Invasion of the Hydronoids
Hitchhike
City in a Bottle
Space Emergency
Doctor Fright
Drag Race
Day of the Plant Creatures
Fire
The Monster Of Dr. Droid
Vandals
Super Friends Vs. Super Friends
Energy Mass
The Enforcer
Shark
Planet of the Neanderthals
Flood Of Diamonds
The Invisible Menace
Initiation
Coming of the Arthropods
River Of Doom
Attack of the Giant Squid
Game Of Chicken
The Water Beast
Volcano
The Collector
Handicap
The Mind Maidens
Alaska Peril
The Fifty Foot Woman
Cheating
Exploration Earth
Attack of the Killer Bees
Forbidden Power
Pressure Point
The Lion Men
The Day of the Rats
The Man Beasts Of Xra
Prejudice
The Tiny World Of Terror
Tibetan Raiders
Frozen Peril
Dangerous Prank
The Mummy Of Nazca
Cable Car Rescue
The Marsh Monster
The Runaways
Will The World Collide?
Time Rescue
The Protector
Stowaways
The Ghost
Rampage
Ad blocker interference detected!
Wikia is a free-to-use site that makes money from advertising. We have a modified experience for viewers using ad blockers

Wikia is not accessible if you've made further modifications. Remove the custom ad blocker rule(s) and the page will load as expected.