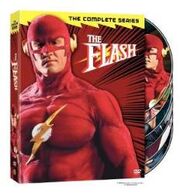 The Flash is a 1990 American television series that starred John Wesley Shipp as the superhero, the Flash (Created by Gardner Fox and Harry Lampert), and co-starred Amanda Pays.  The series was developed from the DC Comics characters by the writing team of Danny Bilson and Paul De Meo, and produced by their company, Pet Fly Productions, in association with Warner Bros. Television. Composer Danny Elfman wrote the show's title theme, and Stan Winston Studios built the costume.
OVERALL PLOT
Edit
The series' pilot episode features an accident in which Central City Police forensic scientist Barry Allen's crime lab is struck by lightning. Allen's electrified body is flung into and shatters a cabinet of chemicals, which are both electrified and forced to interact with each other and with his physiology when they come into physical contact with his body. He soon discovers, with the help of S.T.A.R. Labs scientist Tina McGee, that the accident has changed his body's metabolism and as a result he has gained the ability to move at superhuman speed. To avenge the murder of his brother, motorcycle police officer Jay (Tim Thomerson), Barry demands that Tina modify a red S.T.A.R. Labs prototype deep sea diving suit, designed to withstand tremendous pressures, into his costume, to which she reluctantly complies. Thus, Barry Allen becomes the Flash.
EPISODES:
Edit
Ad blocker interference detected!
Wikia is a free-to-use site that makes money from advertising. We have a modified experience for viewers using ad blockers

Wikia is not accessible if you've made further modifications. Remove the custom ad blocker rule(s) and the page will load as expected.