DC COMICS: Shazam Family (Kids Super Power Hour with Shazam)
Comments

0
Share
Ad blocker interference detected!
Wikia is a free-to-use site that makes money from advertising. We have a modified experience for viewers using ad blockers

Wikia is not accessible if you've made further modifications. Remove the custom ad blocker rule(s) and the page will load as expected.
The Kid Super Power Hour with Shazam! is an NBC Saturday morning cartoon produced by Filmation Studios in 1981.  This contained two segments
From time to time the characters of one show would appear in the other. Isis from The Secrets of Isis also made a guest appearance in animated form on Hero High.
The actors who voice the Hero High cartoon characters perform onstage as their characters each week in live-action song-of-the-week and comedy-sketch segments during the program.
The Hero High Singing Group:
Captain California: Lead Vocals
Glorious Gal: Keyboards/Organ, Background Vocals
Weatherman: Keyboards/Organ, Trumpet, Background Vocals
Misty Magic: Tambourine, Background Vocals
Dirty Trixie: Bass Guitar, Background Vocals
Rex Ruthless: Drums, Background Vocals
Punk Rock: Lead Guitar, Background Vocals
HERO HIGH
Edit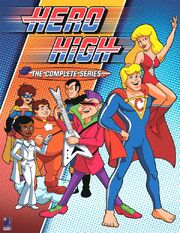 SEASON 1
The Art of the Ballot
What's News
Rat Fink Rex
Do the Computer Stomp
Malt Shop Mayhem
Boo Who
Cover Twirl
My Job Is Yours
Girl of His Dreams
The Not So Great Outdoors
Off Her Rocker
Follow the Litter
Jog-a-long
He Sinks Starships
Starfire, Where Are You?
The Captives
High Rise Hijinx
Track Race
A Clone of His Own
Game of Chance
The Umpire Strikes Back
The Human Fly
Big Bang Theory
Law of the Pack
A Fistful of Knuckles
The Blow-Away Blimp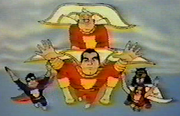 SEASON 1
Who's who at the Zoo
The incredible shrinking city
Best seller
Flight 601 has vanished
Black Adam Returns
Family Affair
Uncle Dudley's Wedding Day
A little something extra
The Airport caper
Mister Atom, the Smasher
The Circus plot
Star Master and the Solar Mirror