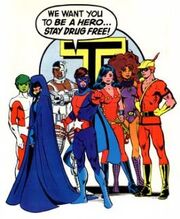 DC COMICS IN THE MEDIA
The Teen Titans, also known as the New Teen Titans, New Titans, or simply the Titans, is a fictional superhero team appearing in comic books published by DC Comics, often in an eponymous monthly series. As the group's name suggests, its membership is usually composed of teenaged superheroes.
The first incarnation of the team unofficially debuted in The Brave and the Bold #54 (1964) as a "junior Justice League" featuring Robin (Dick Grayson), Kid Flash (Wally West), and Aqualad, the sidekicks of Justice League members Batman, the Flash, and Aquaman, respectively. The group then made its first appearance under the name "Teen Titans" in The Brave and the Bold #60, joined by Wonder Girl (Donna Troy), the younger sister of Wonder Woman.[1] Green Arrow's sidekick, Speedy (Roy Harper), later took Aqualad's place in the lineup.
NEW TEEN TITANS
Edit
In 1983, Hanna-Barbera created an animated version of The New Teen Titans which was ultimately not picked up by ABC
ANTI-DRUG COMMERCIAL
Edit
Wonder Girl, Starfire, Raven, Cyborg, Beast Boy, Kid Flash, and
Protector
(temporarily replacing Robin) appeared on a 1984
Keebler
anti-drug commercial

ANTI-DRUG COMMERCIAL
Edit
A promotional video from DC Marketing department in 1984, featuring a brief glimpse of the New Teen Titans Anti-Drug commercial. Hanna Barbera produced a 60-second anti-drug spot in the early eighties using these six characters. It was the only animated appearance of the New Teen Titans.
Marv Wolfman, from New Teen Titans #41 letter's page: "Sometime this season you'll be seeing The Titans all over the TV tube. Tying in with our special anti-drug comic, Hanna-Barbera will be unleashing a one-minute Titans anti-drug cartoon spot which should be shown on all three networks, most likely during Saturday morning. There will also be 30-second and 20-second version of the public service announcement. We received a call from their design department, asking for a whole slew of George's designs, so the Titans should look just about perfect."
The commercial also included the Protector, who appeared in the anti-drug comic book.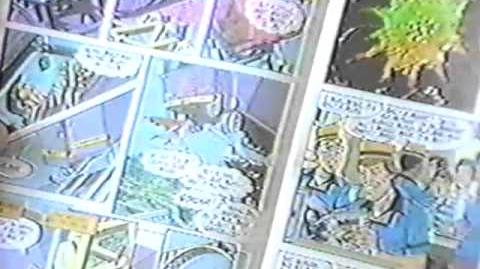 Ad blocker interference detected!
Wikia is a free-to-use site that makes money from advertising. We have a modified experience for viewers using ad blockers

Wikia is not accessible if you've made further modifications. Remove the custom ad blocker rule(s) and the page will load as expected.