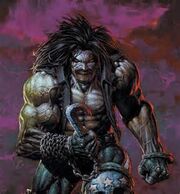 http://i424.photobucket.com/albums/pp327/monitor_ep/comic%20books%20in%20the%20media%20photos/LOBO_zpsffdef46c.jpg
WHAT WE KNOW:
Edit
In September 2009, Warner Bros. announced that Guy Ritchie would direct a live-action adaptation featuring the comic book character. Variety described the premise: "Lobo is a seven-foot tall, blue-skinned, indestructible and heavily muscled anti-hero who drives a pimped out motorcycle, and lands on Earth in search of four fugitives who are bent on wreaking havoc. Lobo teams with a small town teenage girl to stop the creatures." Ritchie was scheduled to begin production of Lobo in early 2010 and bring an "irreverent, gruff tone" to the film as he did with previous films Lock, Stock and Two Smoking Barrels and Snatch. The studio was aiming for a PG-13 rating from the Motion Picture Association of America.[18] In early 2010 it was reported that Ritchie had left the project in order to pursue working on a sequel to his hit film Sherlock Holmes instead.
Section heading
Edit
Write the second section of your page here.
Ad blocker interference detected!
Wikia is a free-to-use site that makes money from advertising. We have a modified experience for viewers using ad blockers

Wikia is not accessible if you've made further modifications. Remove the custom ad blocker rule(s) and the page will load as expected.