DC COMICS IN THE MEDIA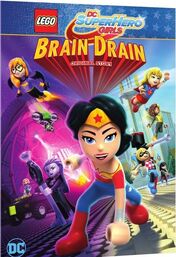 YOUTUBE TRAILER:
Edit
OVERVIEW:
Edit
When Supergirl, Wonder Woman, Batgirl, Bumblebee and Katana suddenly realize they cannot remember a single moment from their Monday at Super Hero High, the young DC Super Heroes spring into sleuthing action! Suspecting foul-play, they band together to retrace their steps and uncover the mystery of who exactly stole their memories – and what nefarious plan might be afoot?
OVERVIEW:
Edit
At
Ad blocker interference detected!
Wikia is a free-to-use site that makes money from advertising. We have a modified experience for viewers using ad blockers

Wikia is not accessible if you've made further modifications. Remove the custom ad blocker rule(s) and the page will load as expected.