Ad blocker interference detected!
Wikia is a free-to-use site that makes money from advertising. We have a modified experience for viewers using ad blockers

Wikia is not accessible if you've made further modifications. Remove the custom ad blocker rule(s) and the page will load as expected.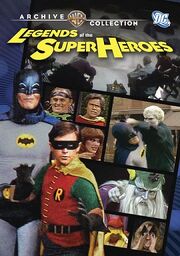 http://i424.photobucket.com/albums/pp327/monitor_ep/comic%20books%20in%20the%20media%20photos/logo_zpse03e1862.jpg

Legends of the Superheroes is an umbrella title for two one-hour, live-action TV specials produced by Hanna–Barbera that aired on NBC in January 1979. The series was loosely based on Hanna-Barbera's Super Friends cartoon show, then airing on Saturday mornings on ABC. The specials were produced like standard variety shows of the time: on videotape, and with a laugh track
THE CHALLENGE (episode 1)
Edit
In the first episode, the Justice League of America (Batman, Robin, Flash, Green Lantern, Hawkman, Captain Marvel, Huntress and Black Canary) unite at the Hall of Heroes to celebrate elderly retired superhero Scarlet Cyclone's birthday. The party is interrupted by the Legion of Doom (Riddler, Weather Wizard, Sinestro, Mordru, Dr. Sivana, Giganta and Solomon Grundy), who announce they have hidden a deadly bomb in a secret location, and the heroes must follow clues to find it. It's all, actually, a trap to make the heroes drink Mordru's de-powering potion, which succeeds, but the heroes face off the villains even so, disarm the bomb and recover their powers. Only after the whole battle is gone, and the heroes have proven victorious, does Scarlet Cyclone arrive to give his aid.
THE ROAST (episode 2)
Edit
The second episode was a celebrity roast of the superheroes hosted by Ed McMahon. All of the major characters from the first episode return. New characters featured include Ghetto Man, an African-American superhero who performs a stand-up comedy routine; Aunt Minerva, the Captain Marvel villainess who seeks a sixth husband from among the male superheroes; Rhoda Rooter, an entertainment reporter who snags an exclusive interview with the Atom (Alfie Wise) and Giganta on their engagement to be married; and Esther Hol, Hawkman's mother.
| JLA | LEIGON OF DOOM | OTHERS |
| --- | --- | --- |
| BATMAN | MORDU | RETIRED MAN |
| ROBIN | RIDDLER | GETTO MAN |
| FLASH | WEATHER WIZARD | ESTHER HOL |
| CAPTAIN MARVEL | SINESTRO | ED MCMAHON |
| HUNTRESS | DR. SIVANA | RHODA ROTTER |
| HAWKMAN | GIGANTA | |
| BLACK CANARY | SOLOMON GRUNDY | |
| GREEN LANTERN | AUNT MINERVA | |
| ATOM | | |