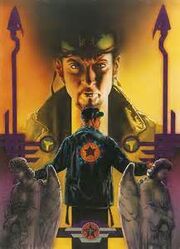 http://i424.photobucket.com/albums/pp327/monitor_ep/comic%20books%20in%20the%20media%20photos/JSALOGO_zps7bec8664.jpg
Jack is the son of Ted Knight, who, as Starman, was a Golden Age superhero. Although Jack is fascinated by his father's heroic life as a child, he becomes more and more rebellious as he grows older. By the time he reaches adulthood, Jack is disdainful of his father's past. Jack's older brother David takes over his father's mantle, while Jack often regards the superhero role with open disdain.
Although Jack is shown as both schooled and talented in fine art, his true passion is collectibles. He eventually becomes the owner and operator of an antique and collectibles store.
Jack's role in the family changes after David is murdered by the son of the Mist, one of his father's old arch-foes. The Mist then attempts to murder Jack as well, who narrowly escapes by using one of his father's old gravity rods. Jack resolves to track down the Mist out of a desire to protect his father. He eventually kills the Mist's son in battle and captures both the Mist and his daughter Nash, who vows revenge. The Mist later succumbs to dementia after the death of his son
WHAT WE KNOW:
Edit
* Cast that was reported to show up: Jack Knight A second generation superhero who is struggling with the mantle of hero after his brother was killed Ted Knight First Starman, and father of Jack and David David Knigh Ted son, the second Starman who died in battle. Hope O'Dare The female O'Dare of her generation. Part of a family that's very important to the history of Opal City. The Mist's family father and siblings will have show up from time to time.
* ABC order a pilot script from Tollin-Robbins
John Gatins was writing the pilot script
Mike Tollin Joe Davola, and Brian Robbins were executive producing
Jack Knight store of antiques might be changed to used record store/music store.
Jack Knight's age changed from 35 year old to a 25 year old
Shade is not listed as a villain
Brian Robbins was the producer
The show was to take place in Opal City
A cosmic Device will be used, but it is unclear if it was to be the Cosmic Rod
Ad blocker interference detected!
Wikia is a free-to-use site that makes money from advertising. We have a modified experience for viewers using ad blockers

Wikia is not accessible if you've made further modifications. Remove the custom ad blocker rule(s) and the page will load as expected.