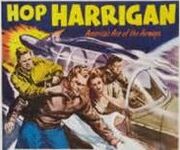 http://i424.photobucket.com/albums/pp327/monitor_ep/comic%20books%20in%20the%20media%20photos/JSALOGO_zps7bec8664.jpg
Hop Harrigan (Bakewell) and his pal "Tank" Tinker (Getchell) operate a small airport and flying service where they are hired by J. Westly Arnold (Vogan) to fly scientist, Dr. Tabor (Merton), to his secret laboratory where he has a revolutionary new power unit. But an unknown character known as The Chief Pilot (Oakman)is interested in the invention and uses a destructive ray to cripple Hop's airplane and kidnap Tabor. Hop and "Tank", aided by Gail Nolan (Jennifer Holt and her kid brother, Jackie (Robert 'Buzz' Henry), finally overcome the criminals only find a bigger threat to them all within their group...
Ad blocker interference detected!
Wikia is a free-to-use site that makes money from advertising. We have a modified experience for viewers using ad blockers

Wikia is not accessible if you've made further modifications. Remove the custom ad blocker rule(s) and the page will load as expected.