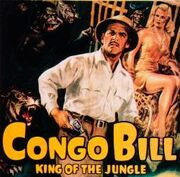 http://i424.photobucket.com/albums/pp327/monitor_ep/comic%20books%20in%20the%20media%20photos/JSALOGO_zps7bec8664.jpg
A girl is about to inherit a fortune, but she is missing in Africa. Only then, family charges Congo Bill, an adventurer, to find her, and bring her back to civilization. He follows a legend about a mysterious White Queen, but his path is full of difficulties, by an inhospitable jungle, and the man who will lose the fortune if the girl is found alive...
Ad blocker interference detected!
Wikia is a free-to-use site that makes money from advertising. We have a modified experience for viewers using ad blockers

Wikia is not accessible if you've made further modifications. Remove the custom ad blocker rule(s) and the page will load as expected.