http://i424.photobucket.com/albums/pp327/monitor_ep/comic%20books%20in%20the%20media%20photos/batmanincorpate_zpsee063d0f.jpg
ONLY FOOLS AND HORSES: HEROES & VILLAINS
Edit
Rodney's fertility schedule is wearing him down. Such is Cassandra's need to have a baby, he buys her a rabbit, Roger, to care for until a little one arrives. Del has a shipment of Latvian alarm clocks he can't shift and his home improvement grant has been rejected. It's Rodders' birthday, and Del buys him a cheap gold bracelet inscribed 'Rooney'. Finding themselves on a rare boys night out, they dress up as Batman and Robin for a fancy dress party held for a local publican. En route, they prevent Councillor Murray from being mugged. They arrive at the party, to discover it's actually a wake as the host (Harry Malcolm), had died the day before. The following day Del is awarded a bravery medal for tackling another mugger, and Cassandra has good news: She's pregnant.
YOUTUBE CLIP
Edit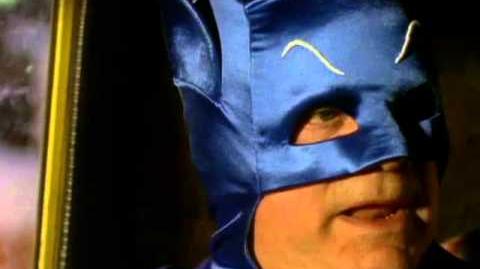 Ad blocker interference detected!
Wikia is a free-to-use site that makes money from advertising. We have a modified experience for viewers using ad blockers

Wikia is not accessible if you've made further modifications. Remove the custom ad blocker rule(s) and the page will load as expected.