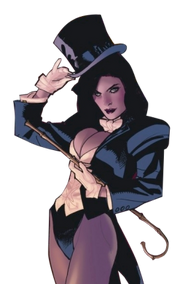 http://i424.photobucket.com/albums/pp327/monitor_ep/comic%20books%20in%20the%20media%20photos/thCA9MM4S3_zpsd34f5b2a.jpg
UNPRODUCED FILM
Edit
In 2005 screenwriter Hadley Davis (Ice Princess) announced that she had written an action-comedy featuring a teenaged version of Zatanna. Nothing further was ever heard about this project, and it is presumed to have been abandoned.
Ad blocker interference detected!
Wikia is a free-to-use site that makes money from advertising. We have a modified experience for viewers using ad blockers

Wikia is not accessible if you've made further modifications. Remove the custom ad blocker rule(s) and the page will load as expected.