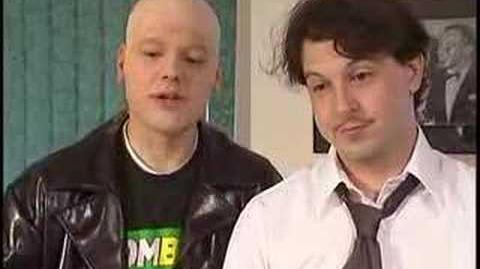 http://i424.photobucket.com/albums/pp327/monitor_ep/comic%20books%20in%20the%20media%20photos/thCA9MM4S3_zpsd34f5b2a.jpg
Ultimate Eye For the Vertigo Guy:
Edit
For over a decade, Vertigo Comics has delivered mature, complex, and multi-layered characters and stories. Bor-RING! The masterminds behind Marvel's ULTIMATE line, Brian Michael Bendis and Mark Millar team up to reboot these 'classic' characters for today's hip and attention-challenged readers. The first makeover challenge: 'Hellblazer' anti-hero John Constantine. g14 productions presents this 2005 Wizard Direct to Video Contest Winner.
Ad blocker interference detected!
Wikia is a free-to-use site that makes money from advertising. We have a modified experience for viewers using ad blockers

Wikia is not accessible if you've made further modifications. Remove the custom ad blocker rule(s) and the page will load as expected.