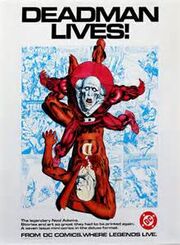 JUSTICE LEAGUE DARK IN THE MEDIA
Only a few weeks after CW President Mark Pedowitz talked about the possibility of a new superhero franchise for the network that gave us Smallville, Deadline.com today revealed that Deadman -- which was once hinted by Geoff Johns as a possibility for a TV show -- is in development for The CW with Supernatural creator Eric Kripke developing it.
Clearly, Kripke is a master at supernatural elements for the CW audience. Earlier, Kripke was involved with a Sandman TV project that ultimately didn't happen - at least not in that incarnation.
In the original comics, Deadman is Boston Brand, a man who is murdered but lives on as a ghost who inhabits others' bodies and helps them solve problems in their own lives. For TV, surely there will be a twist -- and we anticipate hearing more details as soon as they become available.
MONITOR'S NOTES:
Edit
Could this be DC Comics take on the Marvel Cinematic Universe.  With the Justice League Dark movie (Dark Universe) could this show tie into it?
On Arrow, they mention Nanda Parbat the home to the goddess Rama Kushna, the one who gave the Deadman his powers.  Could this be a set up for the Deadman series?
Ad blocker interference detected!
Wikia is a free-to-use site that makes money from advertising. We have a modified experience for viewers using ad blockers

Wikia is not accessible if you've made further modifications. Remove the custom ad blocker rule(s) and the page will load as expected.