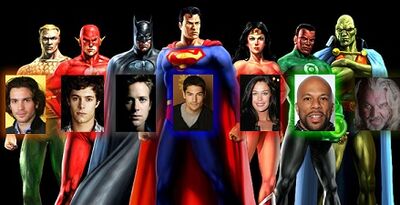 Mortal began in early 2007, when an article ran in Variety detailing that the studio had just hired Kieran and Michele Mulroney to pen a screenplay for an as-yet-untitled Justice League film. The husband/wife duo had previously written only for television, for such series as Star Trek: The Next Generation (season two's "The Outrageous Okona," actually a personal favorite), Star Trek: Enterprise, NCIS, Seinfeld, ER and a few others. Four months later, another article in Variety by the same reporter revealed that the script had been turned in, had received positive feedback from the studio, and that the film was indeed going to be produced (Variety's website is migrating several years' of articles at the moment, so links are currently unavailable). 
Just over three months later, the news came out that George Miller (Mad Max, Happy Feet) had been hired to direct the film, and that the studio would assign a hefty $220 million budget. Word also came that Warner Bros. was very aware of an impending Writers Guild of America strike, and that it was hoping to get started before it began.Apparently, both production and postproduction would be handled in Australia. Locations, including colleges were actively scouted. Barrie M. Osborne, a producer on The Lord of the Rings trilogy and the first Matrix film, was named as producer and it was apparently time to figure out who would fill the multicolored boots of DC's premiere superhero team.Solid news on the film's development is kind of a blur between the announcement of Miller as a director and its eventual cancelation, but there are some consistent names that were floated for the casting of the entire team.
The film would've apparently featured the "original seven" lineup of the League, consisting of Superman, Batman, Wonder Woman, the Flash, Green Lantern, Aquaman and the Martian Manhunter.  While reportedly hundreds of actors and actresses had tested for the coveted roles, the final picks for each character were apparently as follows:
While the studio tried to keep a lid on the casting, and George Miller expressed confidence that the predominantly very young cast would "grow into their roles," an article from March 2008 appearing in The New York Times detailed that fan backlash was pretty heavy.
| CHARACTERS | ACTORS |
| --- | --- |
| Batman - Bruce Wayne | Armie Hammer |
| Superman - Clark Kent | D.J. Cotrona |
| Wonder Woman | Megan Gale |
| Green Lantern John Stewart | Common |
| Flash - Wally West | Adam Brody |
| Aquaman - Arthur Curry | Santiago Cabrera |
| Martian Manhunter | Hugh Keays-Byrne  |
| Maxwell Lord | Jay Baruchel |
| Iris Allen | Zoe Kazan |
| Alfred Pennyworth | Stephen Tobolowsky |
| Talia al Ghul | Zoe Kazan |
TBA