Ad blocker interference detected!
Wikia is a free-to-use site that makes money from advertising. We have a modified experience for viewers using ad blockers

Wikia is not accessible if you've made further modifications. Remove the custom ad blocker rule(s) and the page will load as expected.
http://i424.photobucket.com/albums/pp327/monitor_ep/comic%20books%20in%20the%20media%20photos/thCA9MM4S3_zpsd34f5b2a.jpg
Airdate: January 22, 2013
Spotlight Challenge: While visiting the 2012 San Diego Comic Con, the remaining artisits must create an original DC Comics superhero as well as working on their concept with several DC artists.

Reward: The winning superhero will be featured in the Justice League Dark issue #16.
Guest(s): Dan DiDio, Jim Lee, Nicola Scott, Mark Buckingham, Cliff Chiang, Tony S. Daniel, David Finch and J.H. Williams III
Top Looks: House, Eric F., and Anthony
Bottom Looks: Meagan, Michael, and Katie

Winner: Anthony
Eliminated: Michael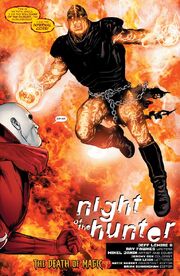 Tune in January 22 to See Contestants Create Original Super Heroes
Winning Super Hero will Appear in JUSTICE LEAGUE DARK #16, Out January 30
Burbank, Calif. – January 16, 2013 – Syfy's most popular unscripted series, Face Off, will have an infusion of super powers in the form of DC Entertainment's Co-Publishers Dan DiDio and Jim Lee, along with six of DC's most respected artists.  In the hit competition show's new episode airing Tuesday, January 22at 9 p.m. ET/PT, a group of special effects make-up artists will be challenged to create their own Super Heroes.
Filmed in the midst of San Diego Comic-Con 2012, each contestant was paired with a DC Entertainment artist to receive creative input and assistance with their designs.  An outstanding array of talent participated in the process including Jim Lee, Mark Buckingham (FABLES), Cliff Chiang (WONDER WOMAN), Tony S. Daniel (ACTION COMICS), David Finch (BATMAN: THE DARK KNIGHT), Nicola Scott (EARTH 2) and J.H. Williams, III (BATWOMAN).
In the Super Hero episode of Face Off, not only will the contestants battle to continue on in the competition, but the winning design will also be featured in the January 30th release of JUSTICE LEAGUE DARK #16, giving the winner a chance to have their work exposed to a broad DC Entertainment audience.
Face Off is an authentic depiction of the high creative standards necessary for a special effects make-up artist to succeed in their craft.  The contestants will be whittled down week by week as they compete to outshine their competition.  The winning artist will receive $100,000, a 2013 Fiat 500, and will also be given the opportunity to become a guest lecturer at the MAKE UP FOR EVER Academies in New York and Paris.