http://i424.photobucket.com/albums/pp327/monitor_ep/comic%20books%20in%20the%20media%20photos/zoocrewlogo_zpse8e0bf63.jpg
Duck Dodgers: Season 1, Episode 9
The Green Loontern (18 Oct. 2003)
ANIMATION
Edit
Duck Dodgers came across the outfit and power ring of Green Lantern Hal Jordan when his own outfit got switched with Hal's at the cleaners. Upon putting them on, Duck became in essence Green Lantern (or, as the episode calls him, the "Green Loontern"). He was eventually summoned off-world to help his "fellow" Green Lanterns defeat an army of robots sent by Sinestro to capture other Green Lanterns to power his anti-matter vortex machine. Though seemingly ineffectual at first, Duck Dodgers did manage to awaken the sleeping Green Lanterns Sinestro has captured in order for them to help stop the vortex machine and push Sinestro into the closing vortex. Afterward, Hal Jordan showed up wearing Duck Dodgers' space outfit which he gave back to Duck when he got his power ring back.
SCREEN CAPTURES
Edit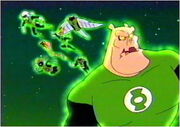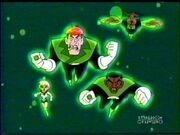 Ad blocker interference detected!
Wikia is a free-to-use site that makes money from advertising. We have a modified experience for viewers using ad blockers

Wikia is not accessible if you've made further modifications. Remove the custom ad blocker rule(s) and the page will load as expected.