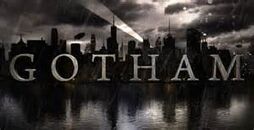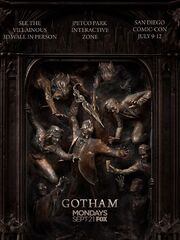 Gotham is an upcoming American superhero television series created by Bruno Heller, based on characters appearing in and published by DC Comics, specifically those of Detective James Gordon and Bruce Wayne, who were created by Bob Kane, and others in DC's Batman franchise. The series will star Ben McKenzie as the young Gordon.  Heller serves as executive producer on the project along with Danny Cannon, who will also direct the pilot. Gotham received a series order from Fox on May 5, 2014, and is scheduled to premiere on September 22, 2014.
As originally conceived, the series would have served as a straightforward story of Gordon's early days on the Gotham City Police force. The idea evolved not only to include the Bruce Wayne character, but will also tell the origin stories of several Batman villains, including the Penguin, the Riddler, Catwoman, the Joker, Poison Ivy, Scarecrow, Hugo Strange and Harvey Dent.
TRAILER: GOTHAM Moves To Thursday Nights 
Edit
ABOUT THIS SHOW:
Edit
IT'S A MAD CITY ON THE ALL-NEW SEASON THREE PREMIERE OF "GOTHAM" MONDAY, SEPTEMBER 19, ON FOX Gordon works in a monster-ridden Gotham as a bounty hunter and seeks to find answers about the Indian Hill escapees, and why their powers appear to be killing them. Meanwhile, Bruce's doppelganger roams the streets, and Barbara and Tabitha open a new nightclub called The Sirens in the all-new "Mad City: Better to Reign in Hell…" Season Premiere episode of GOTHAM airing Monday, Sept. 19 (8:00-9:01 PM ET/PT) on FOX. (GTH-301) (TV-14; L, V)
EPISODES:
Edit
MONITOR'S NOTES: Bonus Footage
Edit
Ad blocker interference detected!
Wikia is a free-to-use site that makes money from advertising. We have a modified experience for viewers using ad blockers

Wikia is not accessible if you've made further modifications. Remove the custom ad blocker rule(s) and the page will load as expected.