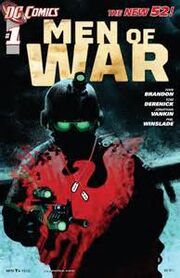 http://i424.photobucket.com/albums/pp327/monitor_ep/comic%20books%20in%20the%20media%20photos/GICOMBATLOGO_zpsbe58dc8a.jpg
WHAT WE KNOW:
Edit
"It [takes place] a little bit in the future," Silver revealed about the rewritten setting. "As a war movie, it's not going to be 'where it's been,' it's going to be 'where it's going.' We didn't want to do Iraq, we didn't want to do a contemporary war. We wanted to do a sort of futuristic war. It's pretty strong. Chad St. John wrote the script and we've got Francis Lawrence involved in developing it with us. It's not a 'go' movie yet but I'm feeling good about it."
Well, that's definitely a shocker. Unlike many comic characters that have seen time setting differences throughout their lifetimes, Sgt. Rock has always been a World War II era grunt. The European Theater wasn't so much the background for the comic, but it was treated almost as another character. Is this just another treatment of the film that will never see the light of day? Silver continued:
"We've done a new draft that actually came in this week. We have a shot at that one now. I feel good about it. That one might happen."
Read more at http://www.comicbookmovie.com/fansites/Poniverse/news/?a=14487#mpoRMqSRchxGzmyU.99
Section heading
Edit
Write the second section of your page here.
Ad blocker interference detected!
Wikia is a free-to-use site that makes money from advertising. We have a modified experience for viewers using ad blockers

Wikia is not accessible if you've made further modifications. Remove the custom ad blocker rule(s) and the page will load as expected.