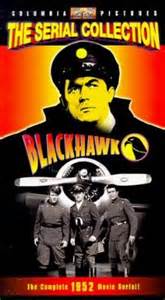 DC COMICS IN THE MEDIA

Blackhawk is a 1952 Columbia movie serial based on the comic book Blackhawk published at the time by Quality Comics. The serial carried the subtitle "Fearless Champion of Freedom"; it was Columbia's 49th serial.
It stars Kirk Alyn as Blackhawk and Carol Forman as the foreign spy that must be stopped from stealing the experimental super-fuel "Element-X"; Alyn and Forman were also the hero and villain of Columbia's earlier Superman. Blackhawk was produced by the famously cheap Sam Katzman and directed by the team of Spencer Gordon Bennet and Fred F. Sears. It is considered relatively cheap and lackluster, made in the waning years of movie serial production.
A flying squadron of World War II veterans, The International Brotherhood, is a private flying investigative force led by Blackhawk. They uncover a gang of underworld henchmen, led by the notorious foreign spy Laska, who reports to the The Leader, a mystery man. During the a serial's 15 chapters, Blackhawk and his flying squadron set about bringing these criminals to justice.