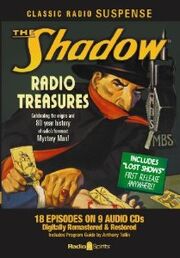 DC COMICS IN THE MEDIA
Radio listeners first heard the sinister laugh of The Shadow on July 31, 1930.This 80th anniversary treasury includes two never-before-released shows starring Orson Welles and Margot Stevenson - Revenge on the Shadow and The Hospital Murders&- from previously lost transcription records.
This 9-Hour digitally restored and remastered collection also includes the premiere broadcast of the 1937 radio revival, Agnes Moorehead's final network appearance as Margot Lane, and performances by Bill Johnstone, Bret Morrison, Marjorie Anderson, Grace Matthews, Lesley Woods, Richard Widmark, Kenny Delmar, Ken Roberts, Frank Readick, James LaCurto, and more.
The Shadow's concealed confrontations with mad scientists, evil mystics, and political players…his menacing meddling in the affairs of religious cults and gamblers…his enigmatic escapades all over the globe, from Broadway theaters to exotic Egypt still thrill after 8 decades!
Section heading
Edit
Write the second section of your page here.
Ad blocker interference detected!
Wikia is a free-to-use site that makes money from advertising. We have a modified experience for viewers using ad blockers

Wikia is not accessible if you've made further modifications. Remove the custom ad blocker rule(s) and the page will load as expected.