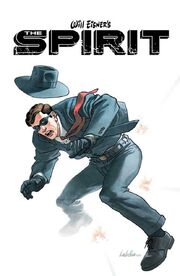 WHAT WE KNOW:
Edit
Denis Kitchen, the Eisner estate's agent, said in a July 8, 2006 online interview that a radio series was in development: "It was pitched to the estate by a couple of producers, one of whom is very experienced with NPR, so we have been back and forth on how that would work. Again, it would be premature to tell you it is going to happen, but it is in serious discussion."
Ad blocker interference detected!
Wikia is a free-to-use site that makes money from advertising. We have a modified experience for viewers using ad blockers

Wikia is not accessible if you've made further modifications. Remove the custom ad blocker rule(s) and the page will load as expected.