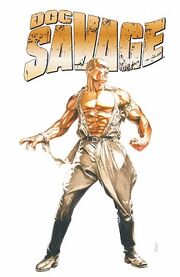 DC COMICS IN THE MEDIA
WHAT WE KNOW:
Edit
Scribe-turned-director Shane Black is set to direct a film adaptation for Original Film and Sony Pictures, according to a report in Variety. Black will also co-write the screenplay with Anthony Bagarozzi and Chuck Mondry. The film version will be set in the 1930s and will include the "Fabulous Five." Neal Moritz will produce. Black gave an update to IGN that the film's story will stay in the 30's and wanted Chris Hemsworth for the role
Ad blocker interference detected!
Wikia is a free-to-use site that makes money from advertising. We have a modified experience for viewers using ad blockers

Wikia is not accessible if you've made further modifications. Remove the custom ad blocker rule(s) and the page will load as expected.