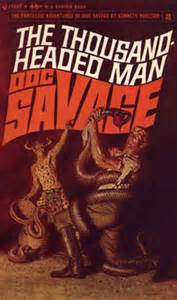 What we know:
Edit
In 1966, with both Bond and Bat-manias at their peak, producers Mark Goodson & Bill Toddman intended to begin a film franchise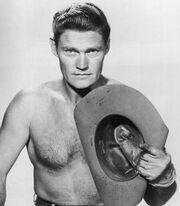 based on the hot-selling
Doc Savage
pulp novels being reprinted by Bantam, starting with
The Thousand-Headed Man
.  They contracted Chuck Connors, who had recently finished a successful run on the
RifleMan
tv series to play Doc, and began pre-production.
[1]
Then, things stopped dead in their tracks.It seemed that
Conde Nast
, who now owned the
Street and Smith
library, including
Doc Savage, The Shadow,
and
The Avenger,
didn't
own the ancillary media rights to
the Man of Bronze
!
Those
rights had been retained by co-creator Lester Dent, who had written most of the novels (including
Thousand-Headed Man
) under the "Kenneth Robeson" house name.(Dent, had previously licensed a short-lived radio version of the character, but had been unable to develop a movie or tv version.
When he passed away, his widow retained the rights.)Mrs. Dent was more than willing to negotiate, but time was not on the producers' side. They had already scheduled the production, and had to start shooting somethingor lose their investment andthe cast, most of whom had commitments scheduled after the Thousand-Headed Man shoot!To recoup, the producers switched to an already-existing Western script called Night of the Tiger, and shot it as Ride Beyond Vengeance.  (Westerns at that point were still an "easy sell" to theatres and tv.)Looking at the Ride Beyond Vengeance cast, it's fairly easy to guess who would've played whom...
Claude Akins as Monk
Michael Rennie as Ham
William Bryant as Renny
Jamie Farr as Johnny
Bill Bixby as Long Tom
Gary Merrill or Paul Fix as Calvin Copeland
Kathryn Hays as Lucille Copeland
Not sure who would've played Sen GatThe cast also included Frank Gorshin and James MacArthur. http://heroheroinehistory.blogspot.com/2011/04/doc-savage-1960s-movie-that-almost-was.html