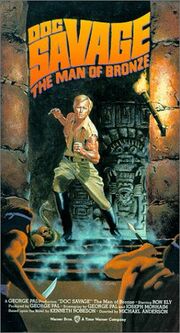 DC COMICS IN THE MEDIA
WHAT WE KNOW:
Edit
According to the screenplay by Joe
Morhaim that was posted on the Internet, as well as other archival and news accounts, Doc Savage: The Arch Enemy of Evil was based very loosely on the October 1934 pulp novel Death in Silver. Doc Savage: The Arch Enemy of Evil would feature a deformed, German-speaking supervillain, whose pet man-eating octopus was a nod to a similar plot element in the September 1937 pulp novel The Feathered Octopus.
In fact, this screenplay was originally intended to be filmed as the first Doc Savage movie. However, producer George Pal commissioned a second script based on the first Doc Savage pulp novel, The Man of Bronze, because he felt the movie-going audience needed more background information about Doc and his origin.
Contemporary news accounts indicated that Doc Savage: The Arch Enemy of Evil had been filmed in the Lake Tahoe area simultaneously with the principal photography for the first Doc Savage film.  However, due to the poor reception of the first film, Doc Savage: The Arch Enemy of Evil was never completed or released.
Ad blocker interference detected!
Wikia is a free-to-use site that makes money from advertising. We have a modified experience for viewers using ad blockers

Wikia is not accessible if you've made further modifications. Remove the custom ad blocker rule(s) and the page will load as expected.