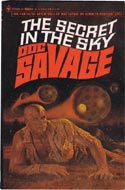 WHAT WE KNOW:
Edit
In anticipation of a proposed Doc Savage TV series, George Pal commissioned a two-part teleplay by Alvin Sapinsley based on the May 1935 pulp novel The Secret in the Sky. The teleplay was completed in January 1975, but due to the poor reception of the first Doc Savage film, a pilot was never filmed.
Ad blocker interference detected!
Wikia is a free-to-use site that makes money from advertising. We have a modified experience for viewers using ad blockers

Wikia is not accessible if you've made further modifications. Remove the custom ad blocker rule(s) and the page will load as expected.