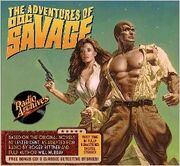 DC COMICS IN THE MEDIA
"The Adventures of Doc Savage" offers the definitive version of the radio series that most Doc Savage and pulp fiction fans consider the finest audio adaptation of the legendary Man of Bronze and his Fabulous Five. First heard over National Public Radio and produced by Roger Rittner's Variety Arts Radio Theatre, this eight-hour collection presents two complete classic Doc Savage stories, fully dramatized and based on the original novels by Lester Dent, writing as Kenneth Robeson. These timeless tales of adventure were adapted for audio by Rittner and well-known pulp historian and author Will Murray. Produced in full range stereo, each episode includes impressive sound effects and a full musical score. This collection - the first commercial release of this impressive thirteen-episode series - features two exciting multi-part adventures. First is the seven-part "Fear Cay", an action-packed adventure in which Doc, Monk, Renny, Ham, Long Tom, Johnny, and cousin Pat Savage pursue the Fountain of Youth Gang to a remote Caribbean island full of booby traps and intrigue - including a mysterious force that can turn a man into a skeleton in a matter of seconds! Then, Doc and his team are enmeshed in the atmospheric six-part lost-city thriller, "The Thousand-Headed Man", where they seek a lost expedition in the jungles of Indochina and an ancient treasure guarded by the fantastic Thousand Headed Man. This collection has been completely remixed, remastered from the original recordings, and is presented in enhanced digital stereo. Also included is a brand new documentary, "The Sound of Bronze: Making 'The Adventures of Doc Savage'", featuring interviews, anecdotes from the cast and crew, and never before revealed details of how the series was conceived and created. The set, released in cooperation with Conde Nast Publications, also features cover art by Doc Savage Bantam artist Bob Larkin.
Section heading
Edit
Write the second section of your page here.
Ad blocker interference detected!
Wikia is a free-to-use site that makes money from advertising. We have a modified experience for viewers using ad blockers

Wikia is not accessible if you've made further modifications. Remove the custom ad blocker rule(s) and the page will load as expected.