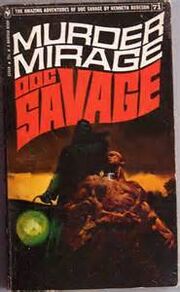 DC COMICS IN THE MEDIA
WHAT WE KNOW:
Edit
Another screenplay was written by Philip José Farmer based on the January 1936 pulp novel Murder Mirage.  It included a potential Wold Newton Universe cross-over involving a meeting between Doc Savage and a retired Sherlock Holmes in 1936. In any case, this screenplay was never filmed.
A blizzard in July and a woman's image is frozen in glass -- how could these bizarre events possibly be connected? To find the answer and save the life of Ranyon Cartheris, the Man of Bronze and his dauntless allies journey to hot desert sands halfway round the world, where they are trapped -- perhaps never to emerge -- in the ancient underground tombs of Tasunan.
Ad blocker interference detected!
Wikia is a free-to-use site that makes money from advertising. We have a modified experience for viewers using ad blockers

Wikia is not accessible if you've made further modifications. Remove the custom ad blocker rule(s) and the page will load as expected.