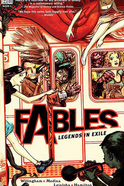 VERTIGO COMICS IN THE MEDIA
Fables is a comic book series published by DC Comics's Vertigo imprint beginning in 2002. The series deals with various people from fairy tales and folklore – referring to themselves as "Fables" – who have been forced out of their Homelands by "The Adversary" who has conquered the realm. The Fables have traveled to our world and formed a clandestine community in New York City known as Fabletown. Fables who are unable to blend in with human society (such as monsters and anthropomorphic animals) live at "the Farm" in upstate New York.
FIRST ATTEMPT:A television series based on Fables was put into development by NBC in 2005 for the 2006-2007 Television Season. The show received a script order and was developed by Craig Silverstein and Warner Bros. Television but was not developed any further than the scripting stage. NBC would later go on to produce Grimm, a police procedural set in a world where fairytales are real. SECOND ATTEMPT:On December 8, 2008 it was announced that ABC had picked up the rights to develop a pilot of Fables for the 2009-2010 television season. Six Degrees creators and executive producers Stu Zicherman and Raven Metzner were writing the script for the hourlong drama, again set up at Warner Bros. Television, while David Semel had come on board to direct. There has been no news since concerning a series based directly on Willingham's series and, in late 2010, he said "the TV show that was prematurely announced is probably dead." Instead, ABC announced a new series called Once Upon a Time, which features fairy tale characters such as Snow White and Prince Charming who have been cursed to live in the real world without the memories of their former lives. The show's creators, Edward Kitsis and Adam Horowitz, stated that they "read a couple issues" of Fables but believe that while the two concepts are "in the same playground," they are "telling a different story."
2013: Warner Bros. is developing a live action Fables film with David Heyman and Jeffrey Clifford producing, Jeremy Slater writing and Nikolaj Arcel directing.
VIDEO GAME: A WOLF AMONG USEdit
A