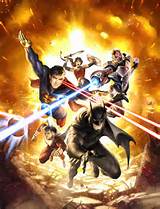 DC COMICS IN THE MEDIA

The New 52 is a 2011 revamp and relaunch by DC Comics of its entire line of ongoing monthly superhero books, in which all of its existing titles were cancelled, and fifty-two new series debuted in September 2011 with new first issues. Among the series being renumbered are Action Comics and Detective Comics, which had previously retained their original numbering since the 1930s. Touted as a large publishing event following the conclusion of the "Flashpoint" crossover storyline, DC's relaunch entails changes to both the publishing format and DC's fictional universe to entice new readers. Other publishing changes include same day release of physical comics with digital platforms, characters from the former Wildstorm imprint being absorbed into the DC Universe, and new titles being released to bring the number of ongoing series being published on a monthly basis up to fifty-two. The changes made to DC's internal continuity are intended to make characters more modern and accessible.  Just like the comics, DC decided to restructure there animated movies.  After the Justice League Flashpoint Paradox, the new movies will mostly take place in the DCnU using the Trade Paperback as there source material.  The first DCnU movie will include the first story arc of the Justice League. 
DCnU MOVIES:
Edit
Ad blocker interference detected!
Wikia is a free-to-use site that makes money from advertising. We have a modified experience for viewers using ad blockers

Wikia is not accessible if you've made further modifications. Remove the custom ad blocker rule(s) and the page will load as expected.