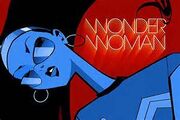 Shorts about Wonder Woman (voiced by Susan Eisenberg) re-imagined in the vein of Starsky and Hutch. Written and directed by Robert Valley. Produced by No Dice INK inc.
Wonder Woman #1
Edit
Steve Trevor crash lands on an island paradise and is pursued by two women in weaponized jeeps before Wonder Woman captures him using a stylized car that turns invisible.
Wonder Woman #2
Edit
As the two women confront Wonder Woman about interrogating Steve Trevor, Giganta awakes and emerges from the water taking the jeeps as roller skates. Wonder Woman, Steve Trevor, and the two women pack into the stylized car as they try to evade the giant.
Wonder Woman #3
Edit
Wonder Woman defeats Giganta by sending her crashing into the ocean and saves Steve Trevor. Trevor asks where he is, but is not surprised when Wonder Woman replies "Paradise Island".
Ad blocker interference detected!
Wikia is a free-to-use site that makes money from advertising. We have a modified experience for viewers using ad blockers

Wikia is not accessible if you've made further modifications. Remove the custom ad blocker rule(s) and the page will load as expected.