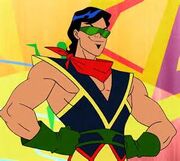 Shorts about the DC superhero Vibe (voiced by Carlos Alazraqui) competing in a break-dancing competition with his sidekick Daniel (voiced by Nika Futterman). Vibe must defeat the robot Extreme-O, created by Professor Ivo (voiced by Jason Marsden), who is disguised as the judge of the breakdancing competition. (1)
Vibe #1: Enter Extremo Pt. 1
Edit
Vibe enters a breakdancing competition.
Vibe #2: Enter Extremo Pt. 2
Edit
During the breakdancing competition, Vibe battles Dr. Ivo's android Extremo.
Ad blocker interference detected!
Wikia is a free-to-use site that makes money from advertising. We have a modified experience for viewers using ad blockers

Wikia is not accessible if you've made further modifications. Remove the custom ad blocker rule(s) and the page will load as expected.