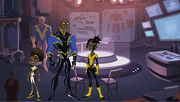 Shorts about the DC superhero Black Lightning (voiced by Blair Underwood) and his super-powered daughters Thunder (voiced by Cree Summer) and Lightning (voiced by Masasa Moyo). Thunder and Lightning receive their costumes from Peter Gambi (voiced by Jeff Bennett) in order to help their father fight crime.
Thunder and Lightning #1: Clothes Make the Hero
Edit
Black Lightning gets a new costume from tailor Peter Gambi when Doctor Polaris interrupts by attacking the city. Leaving behind his daughters Thunder and Lightning, Gambi surprises the sisters with their own costumes.
Thunder and Lightning #2: Lightning Under the Weather
Edit
While Black Lightning battles the Masters of Disaster and Volcano Man, Thunder has to get herself and Lightning ready for school. Unfortunately, Lightning is under the weather. This turns out to be true to Black Lightning when her sneeze defeats one of the villains that Black Lightning was fighting.
WHO'S WHO:
Edit