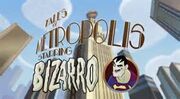 Shorts about the city of Metropolis. Episodes have featured Lois Lane (voiced by Maria Bamford), Jimmy Olsen (voiced by Elisha Yaffe), Bizarro (voiced by David Kaye), Brainiac (voiced by Brian Doyle-Murray), and Batman (voiced by Kevin Conroy).
Tales of Metropolis #1: Bizarro
Edit
Bizarro tries to take the place of Clark Kent/Superman when Brainiac attacks Metropolis.
Tales of Metropolis #2: Lois Lane
Edit
Lois Lane follows Batman everywhere to get an interview. Before he defeats Penguin, Batman answers Lois' questions in order of when each one is asked.
Tales of Metropolis #3: Jimmy Olsen
Edit
Jimmy Olsen goes over the problems with being Superman's best (and perhaps only) friend to Clark Kent.