Ad blocker interference detected!
Wikia is a free-to-use site that makes money from advertising. We have a modified experience for viewers using ad blockers

Wikia is not accessible if you've made further modifications. Remove the custom ad blocker rule(s) and the page will load as expected.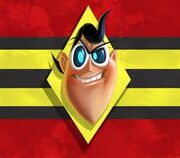 Shorts about the DC superhero Plastic Man (voiced by Tom Kenny) in his daily misadventures. It is based on the Puddle Trouble pilot developed by Andy Suriano, Tom Kenny, and Stephen DeStefano
UNAIRED PILOT
Edit
Warner Bros. Animation and Cartoon Network commissioned a Plastic Man television pilot episode "Puddle Trouble" in 2006. Produced by Andy Suriano and Tom Kenny, and designed and storyboarded by Stephen DeStefano. Tom Kenny also performed the voice of Plastic Man in the program Cartoon Network decided not to pick up Plastic Man as a series and has never aired the episode. "Puddle Trouble" has been released on the Plastic Man: The Complete Collection DVD set
Super Hero Sketch Artist
Edit
Plastic Man uses his stretching abilities to help an elderly woman identify the man who stole her purse.
The Many and the Fowl
Edit
Plastic Man tries to pay his electric bill, but first has to deal with the Tuxedo, Lady Granite, and the Fowl when it comes to mailing the payment.
Flatscreen captures Plastic Man in a television.
The Bat and the Eel
Edit
Batman relates his encounter with safecracker Eel O'Brian.
Superheroes Wear Pajamas
Edit
Plastic Man is entranced by the Tuxedo and appears in public in his Batman pajamas with his teddy bear.