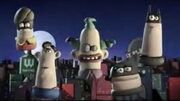 DC COMICS IN THE MEDIA

Shorts revolving around Batman, Robin, Joker, Catwoman, and Superman.[10] Animated by Rich Webber of Aardman Animations.
DC's World's Funnest #1: Superkids
Edit
Superheroes and villains are reimagined with childlike personalities. The Joker does as many jumps and hops as he can in a minute. Superman explains he's not very sporty. Catwoman discusses her mask. Batman runs and jumps off a table.
DC's World's Funnest #2: Heroic Goofballs
Edit
Batman shows off his "superpowers" to Robin. Superman ponders why Robin is called "Robin." The Joker jokes that he prefers not to play jokes on people. Catwoman shows off her long jumping abilities. 
DC's World's Funnest #3:
Edit
Superman discusses how Wonder Woman wears very little. The Joker talks about his new shoes. Batman shows how he fights the wind. Catwoman demonstrates how she has to be sneaky.
DC's World's Funnest #4
Edit
Batman runs around and Superman talks about constellations.
DC's World's Funnest #5:
Edit
Joker captures Robin as Batman comes to the rescue and Catwoman debates Batman's choice of costume. 
DC's World's Funnest #6:
Edit
Superman sneezes and rains heat vision on the people of Gotham as the Joker tries to imitate a balloon and Catwoman describes what you can do with a tail.
DC's World's Funnest #7:
Edit
Superman describes what he's scared of, The Joker sings Jingle Bells as Batman appears, and Catwoman describes being good at balancing on one leg. 
DC's World's Funnest #8:
Edit
Batman misses a call on the Batphone because he was in the bathroom. 
DC's World's Funnnest #9:
Edit
Superman talks about what he is scared of.  Joker sing a new version of "Jingle Bells, Batman smells".  Catwoman talks about balancing.