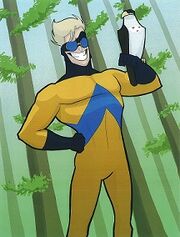 Shorts about the DC superhero Animal Man (voiced by "Weird Al" Yankovic) who saves animals instead of the people who are actually in danger
Bank Robbery
Edit
Animal Man interrupts a bank robbery by Captain Cold to save a mouse that Captain Cold was about to step on. After Animal Man leaves, Captain Cold continues his bank robbery.
Animal Man races against time to beat a speeding train in order to get a cow off its track at the time when a woman has been tied to the train tracks. After Animal Man saves the cow, the woman slaps Animal Man.
Black Manta Attacks
Edit
Black Manta invades the beach and Animal Man defeats him after he had knocked down a crab's sand castle
Darkseid and his Parademons invade Earth as Animal Man scolds a dog's owner for tying his dog to a parking meter.
Ad blocker interference detected!
Wikia is a free-to-use site that makes money from advertising. We have a modified experience for viewers using ad blockers

Wikia is not accessible if you've made further modifications. Remove the custom ad blocker rule(s) and the page will load as expected.