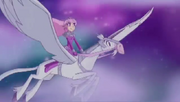 Seven shorts based on Amethyst, Princess of Gemworld (voiced by Sophie Oda) as she is brought onto Gemworld to fight the forces of Dark Opal (voiced by Eric Bauza). The shorts were created by Brianne Drouhard with David Production.
LEVEL 1 YOUR QUEST
Edit
A young girl named Amy Winston is playing the handheld video game "Amethyst, Princess of Gemworld." She is unable to defeat the evil Dark Opal with Prince Topaz only to be magically transported to Gemworld as the long-lost Princess Amethyst.
LEVEL 2 VILLAGE OF THE FROGS
Edit
Dark Opal sends a giant spider that battles Amethyst.
LEVEL 3 RANDOM ENCOUNTER
Edit
Amethyst must take a dip in a lake after an encounter with a slime, but must also battle the enormous centipede-like creature that takes residence in the lake.
LEVEL 4 THE TURQUOISE CAVE
Edit
Amethyst battles Prince Topaz (who had been turned into a skeleton by Dark Opal in the first short) and earns his treasure after defeating him. Nothing left to hold him back, Amethyst puts Prince Topaz's skeleton back together and urges Prince Topaz to travel the world. 
LEVEL 5 BATTLE IN THE STORMY PEAKS
Edit
Amethyst saves the Frog Prince from Dark Opal's spell and obtains her pendant's jewel Prince Topaz told her she needed. However, is she prepared to face Dark Opal himself when he shows up in person?. 
LEVEL 6 THE FINAL BATTLE
Edit
Amethyst faces off against Dark Opal. 
LEVEL 7 TIME TO GO HOME
Edit
Amethyst defeats Dark Opal and returns to her own world
Ad blocker interference detected!
Wikia is a free-to-use site that makes money from advertising. We have a modified experience for viewers using ad blockers

Wikia is not accessible if you've made further modifications. Remove the custom ad blocker rule(s) and the page will load as expected.