Ad blocker interference detected!
Wikia is a free-to-use site that makes money from advertising. We have a modified experience for viewers using ad blockers

Wikia is not accessible if you've made further modifications. Remove the custom ad blocker rule(s) and the page will load as expected.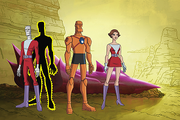 Shorts about the DC superhero team the Doom Patrol consisting of Chief (voiced by Jeffrey Combs), Elasti-Girl (voiced by Kari Wahlgren), Negative Man (voiced by Clancy Brown) and Robotman (voiced by David Kaye). The Doom Patrol fights different villains including General Immortus (voiced by Clancy Brown).[
Doom Patrol: Challenge of the Timeless Commander
Edit
The Doom Patrol protect an alien vessel from getting into the hands of General Immortus.
Doom Patrol: Trial of the Terrible Titan
Edit
The Brotherhood of Evil are trying to steal the Statue of Liberty.
Doom Patrol: The Spy Within the Doom Patrol
Edit