DC COMICS IN THE MEDIA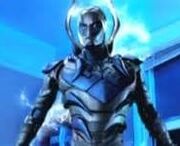 SDCC Demo Footage
Edit
Geoff Johns announced a live action TV series featuring the Jaime Reyes version of Blue Beetle.  They made a test trailer with Garrett Plotkin stuntman and actor as Jaime Reyes/Blue Beetle. Scenes of this trailer were shown as part of the upcoming DC Nation block of programming in 2012 on Cartoon Network during the premiere of Green Lantern: The Animated Series.
Ad blocker interference detected!
Wikia is a free-to-use site that makes money from advertising. We have a modified experience for viewers using ad blockers

Wikia is not accessible if you've made further modifications. Remove the custom ad blocker rule(s) and the page will load as expected.