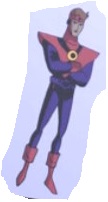 http://i424.photobucket.com/albums/pp327/monitor_ep/comic%20books%20in%20the%20media%20photos/WHOWHOLOGO_zps707acc24.jpg
Gim Allon aka Colossal Boy is a member of the Legion of Super-Heroes who can increase his size and strength to gigantic levels. Gim Allon was born on Earth to Wynn Allon and Marte Allon. He was raised in a patriotic and Jewish family. As a young man, Gim enrolled to become a member of the Science Police. While on vacation on Mars with fellow cadet Gigi Cusimano, a strange meteor crashed into the soil near him. The meteor's radiation altered his body's molecules, giving him the power to grow to giant sizes at will. He continued with the Science Police, nearly apprehending the villain who would become Starfinger, but his parents encouraged him to his new-found powers to help more people. Gim joined the Legion of Super-Heroes alongside fellow applicant Chameleon Boy. It was Gim that him his code name as he reminded him of chameleon he owned as boy.
JLU TAS: Far From Land
LEGION OF SUPER-HEROES TAS:
Ad blocker interference detected!
Wikia is a free-to-use site that makes money from advertising. We have a modified experience for viewers using ad blockers

Wikia is not accessible if you've made further modifications. Remove the custom ad blocker rule(s) and the page will load as expected.