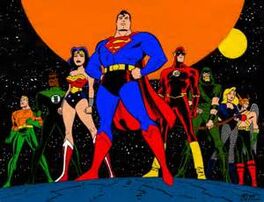 WHAT WE KNOW: Early Draft 1
Edit
In the Wizard Magazine, Bruce Timm revealed his early work of the the Justice League that was supposed to launch from the Superman TAS ended.  Batman was not to be in this Justice League but the core members were to be Aquaman, Green Lantern John Stewart, Wonder Woman, Superman, Flash (Wally West), Green Arrow, Black Canary, and Hawkman.  In the second season they were to add in other members:
Hawkgirl, Lightray, Supergirl, Black Lightning, Nightshade, Question, Vixen, Dr. Fate and Mr. Miracle.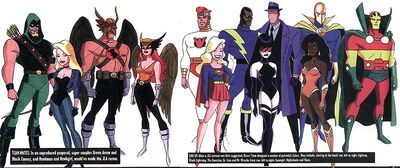 WHAT WE KNOW: Early Draft 2
In the second draft that was filmed, Justice League: The First Mission was an animation put together by the Justice League production team while shopping the series to Kids' WB!.  Since it was for the Kids' WB! Bruce Timm and crew added in three teens to make WB happy. These teens were Robin (Tim Drake), Impulse (who would have replaced The Flash) and Cyborgirl (a new character) to fight along side Batman, Superman, Wonder Woman, Green Lantern (John Stewart), Martian Manhunter, and Hawkgirl.