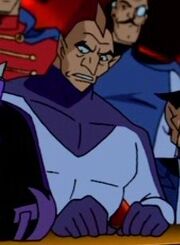 http://i424.photobucket.com/albums/pp327/monitor_ep/comic%20books%20in%20the%20media%20photos/WHOWHOLOGO_zps707acc24.jpg
When an atomic pile went out of control at an experimental atomic station, there was an explosion which released radiation and mutated a tiger shark that was swimming close to the shore. Rapidly, the Shark developed humanoid looks, as well as great psionic powers and human-level intelligence. The Tiger Shark telepathically absorbed knowlege from the minds of humans, thus learning how to speak. But despite his newly found abilities, the Shark retained his instinct to hunt and destroy his prey. Shark was among the supervillains welcoming Lex Luthor in his arrival to the Legion of Doom. He also witnessed how Luthor overthrew Grodd, and was present when Flash addressed the Legion in Luthor's body. His ultimate fate is unknown. 
Section heading
Edit
Write the second section of your page here.
Ad blocker interference detected!
Wikia is a free-to-use site that makes money from advertising. We have a modified experience for viewers using ad blockers

Wikia is not accessible if you've made further modifications. Remove the custom ad blocker rule(s) and the page will load as expected.