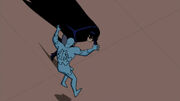 http://i424.photobucket.com/albums/pp327/monitor_ep/comic%20books%20in%20the%20media%20photos/WHOWHOLOGO_zps707acc24.jpg
The Puzzler is a huge fan of Superman and in an attempt to get his attention tries joining several superhero organizations. In the end he went for the criminal way. The Puzzler's first task was to kill Clark Kent. He was hired by the Intergang but when he saw Superman he saw an opportunity to get to the top by killing him. He was almost able to defeat Superman until he separated him puzzle pieces, leaving him unable to pull herself back together.
The Puzzler was one of the villains who greeted Lex Luthor at the Legion's Headquarters' entrance. He took part in the attack on Gorilla City but was easily taken out by Batman. The Puzzler was last seen in the meeting room when Doctor Polaris challenged Luthor's position as leader. His ultimate fate is unknown.
MONITOR'S NOTES:
Edit
This version of the Puzzler is a combination of the first and second Puzzlers.
Ad blocker interference detected!
Wikia is a free-to-use site that makes money from advertising. We have a modified experience for viewers using ad blockers

Wikia is not accessible if you've made further modifications. Remove the custom ad blocker rule(s) and the page will load as expected.